Come join Us for the 3rd Annual Chase the Sunset Poker Run to benefit the Willard Community Center!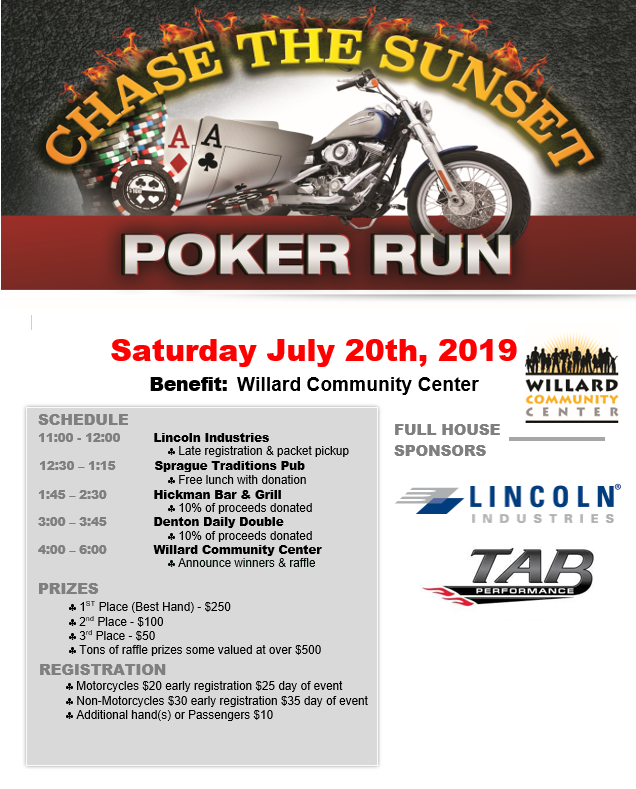 Date: Saturday, July 20th, 2019
Schedule:
11:00 am - 12:00 pm - Lincoln Industries - Packet Pickup and Late Registration
12:30 pm - 01:15 pm - Sprague Traditions Pub - Free lunch with free will donation to Willard
01:45 pm - 02:30 pm - Hickman Bar & Grill - 10% of proceeds donated to Willard
03:00 pm - 03:45 pm - Denton Daily Double - 10% of proceeds donated to Willard
04:00 pm - 06:00 pm - Willard Community Center - Announce winners and raffle off prizes
Prizes:
1st Place (Best Hand) - $250
2nd Place - $100
3rd Place - $50
Tons of raffle prizes, some valued at over $500
Registration Information:
Motorcycles $20 early registration $25 day of event
Non-Motorcycles $30 early registration $35 day of event
Additional hand(s) or Passengers $10
Each registration includes one (1) raffle ticket. Additional raffle tickets may be purchased.
Download Registration Form by clicking HERE.
Rules:
All cards will be picked at the designated stops on the Poker Run Route (PLAYERS WILL NOT BE PERMITTED TO PICK UP ALL CARDS AT ONE STOP), Cards will be picked up one card at a time, and laid face up on the table for view. No duplicate cards can be used. Participants must draw an additional card if an identical card is drawn.

If playing MORE than one hand, the participant must present a second Poker Run Talley Sheet Ticket & Talley Sheet to be marked BEFORE each card is drawn.

If you do not like the card you've drawn you may re-draw for $5 per re-draw, maximum of 5 re-draws per stop. You must use the last card you draw even if it's worse than a previous card drawn.

The Poker Run volunteer will initial the box for the card you draw at each stop.

In case of a tie, there will be a draw for High Card to determine the winner.

Riders MUST BE PRESENT to receive any winnings!

All decisions of the judges are FINAL!
Event Sponsor:
PAIR SPONSORS - $100
McCashland, Kirby and Associates: https://www.mckinsure.com/
Tech Allies: https://techallies.net/
C.H. Robinson: https://www.chrobinson.com/en-us/
Grantski Enterprises Inc.
Wilhelm Auto Repair : http://wilhelmautorepair.com
3 OF A KIND SPONSORS - $250
FULL HOUSE SPONSORS - $500
Ideal Pure Water of Lincoln: http://www.idealpurewaterandcoffee.com/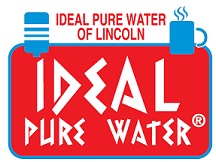 https://www.stephensandsmith.com/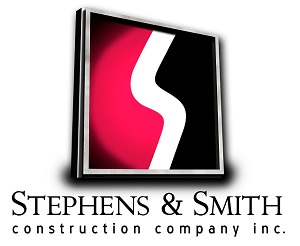 ROYAL FLUSH SPONSORS - $1000 - UP
TAB Performance: https://www.tabperformance.com/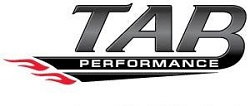 Lincoln Industries: https://www.lincolnindustries.com/

Roughriders: http://www.roughridersne.org/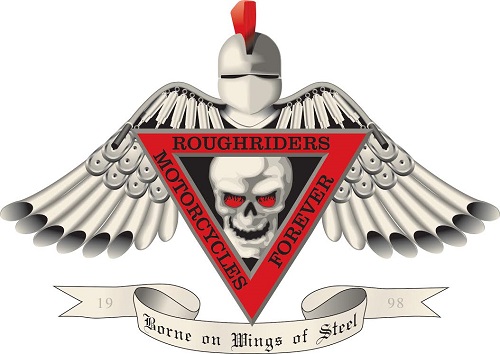 Interested in sponsoring this event? Download the sponsor form by clicking HERE.
Interested in making a donation for the raffle? Contact Janelle at janelles@willardcommunitycenter.org or Tabitha at tabithal@willardcommunitycenter.org